Getting hit with a price increase? SCM Managers & CFOs & our students love this cloud platform! It looks at raw material market data from multiple sources, visualizes & analyzes historical pricing scenarios, & simulates planned purchases & what-if scenarios against forward price curves. Our grads will be ready.
https://lnkd.in/ggPFSumH
Very common theme with my Supply Chain grads. Spot on Dr. Handfield. In the Fall, we will also be looking at raw material market data from multiple sources, we will visualize & analyze historical pricing scenarios, & do some simulating on planned purchases & what-if scenarios against forward price curves. I have been collaborating with Net Alpha and they have a cloud platform called materialx that I am bringing into the classroom. It beats updating color coded excel spreadsheets. 
https://lnkd.in/gMuhMNf6
https://lnkd.in/gQZ7HfWb
https://www.prleap.com/pr/283694/net-alpha-announces-materialx-decision-support-a-cloud-based-service-for-supply-chain-management-organizations-that-enables
Net Alpha Announces materialx Decision Support – A Cloud-Based Service for Supply Chain Management Organizations that Enables Better Raw Material Purchase Decisions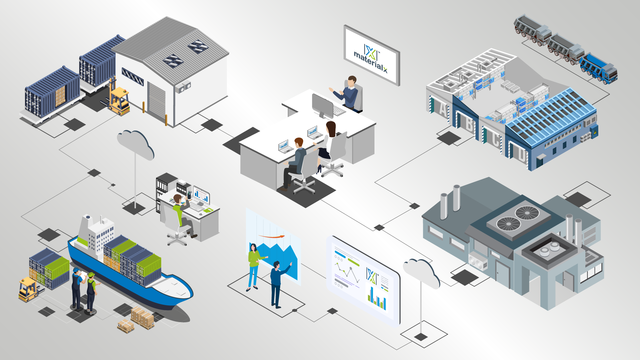 March 02, 2022 (PRLEAP.COM) Technology NewsBirmingham, MI – Net Alpha Financial Systems, LLC, the technology company developing solutions that are transforming the way manufacturers, producers, distributors, and brokers transact in raw materials, today announced materialx® Decision Support, a new cloud-based subscription service that enables supply chain management organizations to make better raw material purchase decisions.
materialx Decision Support is designed to make pricing data for raw materials more accessible and usable to procurement and other supply chain management professionals. The service combines access to a rich set of market data sources with powerful analytical tools, data visualization, collaboration tools, simulation, and tracking capabilities, enabling more informed and collaborative decision-making than previously possible. With materialx Decision Support, companies can unlock new levels of organizational transparency to the impact of raw material pricing on their purchasing plans, easily involve all stakeholders in purchase decisions, deeply understand the potential economic outcomes of those decisions, and continuously improve decision-making processes by analyzing the impact of past decisions utilizing the data that was available at the time such decisions were made.
"We've listened to dozens of procurement teams of various sizes in different industries that time and time again communicated similar challenges, especially following the last two years of the COVID-19 pandemic," said Eyal Mizrahi, CEO and Co-Founder of Net Alpha Financial Systems. "Procurement teams are often asked when they knew about a substantial price change for a critical raw material, how they reacted to it, and how the change was communicated internally. We built materialx Decision Support to enable answering such questions. Procurement teams that have seen our solution have recognized immediately how it can transform their current processes which usually involve partial data, many spreadsheets, and email threads. The new service can also allow them to capture and harness organizational knowledge in a way that wasn't previously possible."
materialx Decision Support includes information feeds from Chicago Board of Trade (CBOT), Chicago Mercantile Exchange (CME), Commodity Exchange (COMEX), London Metals Exchange (LME), and New York Mercantile Exchange (NYMEX), with additional data sources to be offered in the immediate future, all of which can be evaluated, analyzed, modeled, and tracked through a single intuitive interface. Like all materialx platform solutions, it is a cloud-based service, so there is no software for customers to build, deploy, or manage, allowing customers to onboard within minutes. For more information on materialx Decision Support, please visit: https://n-alpha.com/solutions/decision-support
About Net Alpha Financial Systems and materialx
Net Alpha has developed a suite of software tools that help buyers and sellers of raw materials realize digital transformation with minimal investment. The company's materialx platform provides a suite of cloud-based services that transform how raw materials with variable and negotiated prices are evaluated, transacted, and settled. The services include materialx Decision Support for procurement and supply chain management organizations that wish to maximize the strategic value of raw material pricing data and collaborative decisions, as well as materialx Sales Engine, a transactional platform designed for raw material producers, distributors, and brokers that look to grow revenues by deploying a competitive online presence. The materialx platform-as-a-service is a low cost, rapidly deployable alternative to developing and managing expensive in-house systems. The platform was purpose-built to meet the information and transaction needs of buyers and sellers of raw materials through advanced evaluation and analysis, collaboration, negotiation, execution, and tracking tools. For more information, or to arrange a demonstration of a materialx solution, please visit www.n-alpha.com
Rising Interest Rates: Maybe It's Time to Bring Back the Forgotten Art of Price Analysis
May 4, 2022 | Robert Handfield Ph.D.
Price analysis is a subject that is often overlooked in supply chain education, (although it is certainly a big part of our chapter on Strategic Cost Management in Purchasing and Supply Chain Management). This is perhaps a "forgotten art" that was revisited by one of our student teams that worked with the American Red Cross to explore this topic further this semester. The issue is particularly important, given the massive inflation rates we have seen, and the Fed's decision to raise rates today. (By the way, don't forget that I told you inflation was coming on strong, back in June 2021! The Fed didn't listen to supply chain guys back then…)
In an effort to incorporate organizational best practices in the scope of price analysis, the project team James Schott, Kevin Jones, and Delshad Zaker worked with Tom Nash and Red Cross to identify practices, processes and structures within organizations for a price analysis function or group. The team conducted multiple interviews, and surprisingly, none of the organizations they met with confirmed the existence of a Price Analysis Group within their organization, but many discussed similar groups and processes in place that take on similar tasks and procedures dealing with price analysis and compliance. The team thanks the executives from Gilead Science, MetLife, Altria, VF, CAPS, The Hackett Group, Sonoco, and Lenovo who participated in the interviews.
Suppliers are often able to raise prices, and do so without warning, particularly in this environment. Although the team heard varying information regarding the core issues described, every single individual interviewed acknowledged that a dedicated group focusing on price analysis methods would be very beneficial to their organization and effective in promoting improved practices. One executive noted that throughout his career, procurement organizations he has led or been a part of lacked a team or group of people whose focus and core competency was on optimizing price and spend visibility, supplier utilization and contract compliance. Another leading executive called the group a "no brainer", and she noted that the level of non-compliance in contract alignment and spending by onboarded suppliers is not visible to the team due to a lack of focus or a dedicated team. None of the leaders we spoke to could provide the team with figures around excess costs that were incurred related to the issues described. All admitted that if an analysis was done the numbers would warrant or justify a focus on the key topic areas of onboarded supplier compliance, contract pricing compliance, and fair and reasonable market analysis. All agreed that establishing a group to oversee these types of activities would be beneficial, stating that the cost of implementing a proposed group would far outweigh the non-compliance costs organizations would incur.
Several executives mentioned the possibility of forming a procurement "center of excellence" as a group that addresses the efficiency of how a procurement team functioned, including the establishment of price analysis activities. One executive described this group's key activities as including managing pricing agreements with software and tools, building and maintaining supplier price catalogs, rate cards for category management and requesters within the broader organization. Another CPO referenced a procurement analyst team that took on some of the price analysis work being described, and she noted that "This kind of price compliance work is administrative and analytical which is why our procurement analytics team does it. Even if the category manager had time to do it, I want them to be more strategic in their focus."
When discussing price analysis activities post-transaction, many of the individuals interviewed classified these as traditionally audit activities but added these processes could fall under the guise of a Price Analysis Group. One executive said on this topic "In lieu of focusing on terms like "audit" when establishing the group, align to titling the group as a "continuous improvement team", "root cause analysis group" or "center of excellence" to avoid the connotation that can come from the negative perceptions of audit within an organization."
Whatever you want to call it, Price Analysis is an activity that is well worth conducting.  Several of our other student teams who presented at the Gallery Walk last week developed some highly sophisticated price analysis tools, including some that benchmarking material cost indices, established price inflation drivers, and developed modeling scenarios to understand how transportation costs will behave in the future.  Maybe Price Analysis's time has returned!
Professor, Advisor, Consultant4d • Edited • 4 days agoGiven the Fed's announcement of increasing rates today, maybe it's time that firms started to re-institute a Price Analysis team to keep track of markets and what is happening. Our student team research study also finds it's high time to bring Price Analysis back into the toolbox for procurement. #procurement#markets#inflationThomas NashJohn ZapkoVeronica JonesPatrick TewksburyGreg Munoz